SuperSport United Football Club are in their second week of their training progamme since they resumed training a week ago.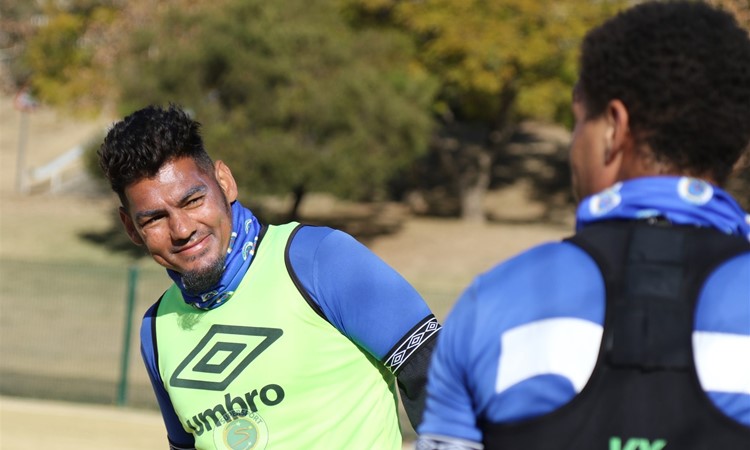 SuperSport United Football Club are in their second week of their training progamme since they resumed training a week ago.
The club's website conducted Q and A with one of the club's long-serving defender Clayton "Hare" Daniels on the team's league resumption under the return-to-play protocols.
 How does it feel on reuniting with the entire team?
Well you know is like being away from your family, haven't seen them in a while so I was so happy to see all the players and staff again. I had to come in early to see everyone because we are training in small groups and I had to wait till everyone is finished to make sure I see everyone and it was a good feeling all the smiles and happiness you could see and feel from everyone.
Three months us long time, how much did you miss each other?
I think it  is the first time in my whole career I've been away from football and my teammates so three months is a long time to stay self-motivated and professional as possible because we could return anytime soon on to the pitch.
How was week one upon arrival af training?
 First week was tough even though we had an off season programme and challenges we did a lot of running and fitness test to see where we are in terms of our fitness level so that the coaches can work on a training programme that can condition us and also make us football ready.
What measures are put in place before entering the premises?
Every day we must fill in a questionnaire to say how you feel and sign it then the next step you get screened by officials, get your hands sanitized every time you get a break between training as we also train in small groups to keep the social distancing and we have been given masks to wear, so the club is following the protocol with strict precision.
What have you covered in the first week?
Like I said, it is basically to see where the players are in terms of their fitness level so that they compare the next time they make a programme to condition them, in terms of their group training  and their personal fitness.
This is week two, what are you focusing on this time around?
Absolutely, it is our second week and we have been focusing more on the ball work and conditioning, we are still training in small groups of five players so the coach is slowly bringing the football element together with conditioning.
How is the team's morale at training since the training programme is conducted differently now?
We would love to hug each other to show the appreciation and all those things but it is different now.  I think the players adapt very well, they are very professional in that sense, it is more individually now than before, you have to prepare yourself very well for the good of the team. You have to go home and focus on other elements of your body, work hard in a different dimension whereas at training you do your football things but you need to strengthen training so that is required to do from yourself where no one is watching.  This is carried out behind closed doors and this is the professionalism every player needs to adapt going forward.
Some of your colleagues have been released by the team and they have contributed in the club in different ways?
Firstly I want to say thank them for their dedicated service, secondly I want to wish them all the best going forward and I hope they become better players and also better people.  We at SuperSport United are a family and losing a family member to another team is sad to see but we all know how it goes in football. They know what it is like to play for a club like SuperSport, the challenge for titles every season and they know that we pride ourselves in working hard every day, the team comes first before any individual and they know what they have achieved here at our club and we were grateful they had their share in achieving those goals, something they can be proud of and I hope this is something they can take with them on their journey going forward. I wish them all the best, and hopefully we shall meet again on the pitch.
Clayton "Hare" Daniels SuperSport United Football Club Defender