SuperSport United Football Club young midfielder Jesse Donn had his first start in the First Team with a 2-0 victory against Polokwane City last week on Wednesday.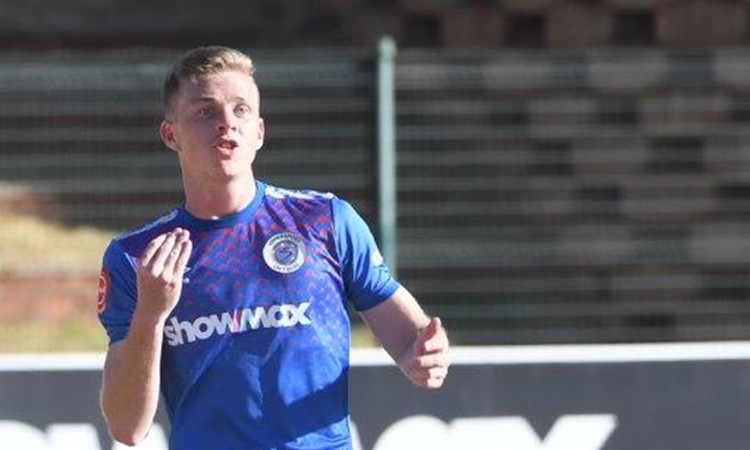 SuperSport United Football Club young midfielder Jesse Donn had his first start in the First Team with a 2-0 victory against Polokwane City last week on Wednesday.
The match was held at the Johannesburg's Bidvest Stadium.
The Club's website conducted Q and A with him after playing a full match since he joined last year.
How did you join United?
I joined United after being scouted by the club's Talent Identification team during Ubuntu Cape Town's Nedbank Cup run in 2018.
Where did you kick of your football career?
I signed my first professional contract at Ubuntu Cape Town FC in the National First Division (NFD). I played there for two years before joining United in 2019.
How was the reception when you joined United?
From day one, the entire Matsatsantsa family has made me feel welcome. From the background staff to the coaches and especially my fellow teammates, everyone has been super friendly and inclusive.
Which age group/s did you play for?
I spent my academy years, from ages 11-18, at the Ubuntu Football Academy. They will always have a special place in my heart because they have groomed me into the player and person I am today. The Ubuntu family is so much more than a football club, and I owe much of my success to my years spent at Ubuntu.
Who guided you during your time at the Academy?
If I'm completely honest, my plan was never to come and play for the MultiChoice Diski Challenge (MDC) team. As footballers we have high aspirations and so in my head, my focus was solely on getting minutes for the first team. That being said, I always knew in the back of my mind that if I struggled for game time in the first team, as in the first half of the season, I would need to get some minutes with the MDC team. I am extremely thankful to the MDC team and staff for accommodating me in the MDC team, often at short notice and at the expense of their own players.
Tell us about the MDC and the competition in the Challenge compared to the PSL?
Although I feel the standard of the MDC has dropped with the new Under21 rule, it definitely serves an important purpose in the structure of South African football. Players such as myself who weren't able to get first team minutes need the Reserve League to maintain match fitness and sharpness. It also provides a great platform for younger players to transition into the first team, as we are seeing now with the inclusion of Gape Moralo, OssieAppollis and Selaelo Rsebotja in the first team squad.
How many caps do you have in the First Team?
 I currently have three caps (two subs and one start) for the first team.
Tell us about your first start and how was the feeling when the coach announced your name in the starting lineup?
My debut was against Chippa United. In our pre match training session leading up to the game, our former captain Dean Furman got injured. With Dean out, I knew that there was a possibility that my chance would come, and so I was super focused for that entire weekend. Lucky enough, things went to plan and I got my chance. It felt amazing to run onto the field in the SuperSport colours, and there was a massive sense of relief as it had been a long time coming. We had just gone 2-0 up and so there wasn't a lot of pressure on me, which really helped me to relax and enjoy myself.
Tell us how it felt in your first appearance and who did you play against?
It felt great to hear that I was in the starting lineup against Polokwane City. I was excited, but also nervous, as I knew that it would be my first chance to fully express myself on the field, and I really wanted to show what I'm capable of.
What exactly did coach Kaitano say to you?
Coach Kaitano told me before the game that he wanted me to play without fear and enjoy myself. He emphasized that I had the full support of my teammates and that really encouraged me to give my best.
And what about some of the senior players?
Most of the senior players encouraged me to stay relaxed and confident in my ability. You play your best football when you enjoy yourself.
It should have been an exciting feeling when the ref blew the whistle to mark the end of the match?
It was a massive sigh of relief when the ref blew the final whistle. I was obviously pretty tired after playing my first 90 minutes in over five months. But beyond that, it felt amazing to get the three points, knowing that I had contributed to the team's success.
 Also, you were in the mix when the team scored the second goal
As a midfielder, especially a Central Defensive Midfielder (CDM), you are often overlooked or not celebrated, but it's part of the job. My role is never to wow the fans with skills or score tons of goals, so I try to keep it simple and allow others to shine. The team's success is my success, and vice versa.
Who do you play in the same position with?
Last season I was sharing positions with Dean, and I tried to learn as much as I could from him in the season we spent together. He is a great player and role model and I hope that I will be able to apply everything I have learnt from him. This season, I and Teboho Mokoena are sharing the number six role.
Having joined by Gape, Selaelo and Oswin in the first team should have been a great feeling to you?
It is great to see Gape, Ossie and Selealo in the first team. I had the privilege of playing alongside them in the MDC team a few times and I can confidently say that they are all quality players. I can't wait for them to get their chances because I have no doubt that they'll have a positive impact on the team.
Player Profile
Name:                 Jesse
Surname:           Donn
Date of birth:     9 April 1999
Place of birth:    Cape Town
Country of birth:South Africa
Position:             CDM
Jersey Number: 26
Previous Club:   Ubuntu Cape Town FC
#ForTheBadge
: